Nutrition Therapy in Jefferson Park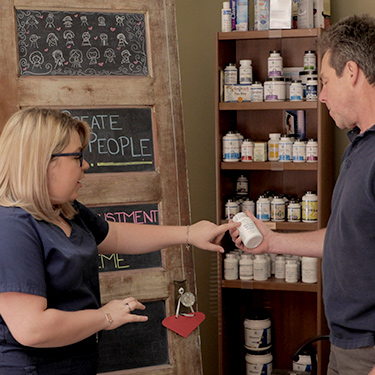 Dr. Meyer understands the power of eating well. With a health condition that responds greatly to improved diet, he has experienced firsthand the benefits of balanced nutrition. Whether you are suffering from pain and inflammation, joint pain, or anxiety, Helping Hands Chiropractic Care is ready to help you establish a nutrition plan that allows you to live your best life.
Why is Nutrition Important?
Each year, the food industry becomes worse and worse. Appealing to every weakness human beings have with salt, sugar and taste, they continue to produce products that taste good but do little to no good for our bodies, and sometimes are even harmful to our health. Unfortunately, however, most of us are too busy or cannot afford to eat perfectly-grown, organic foods at every meal, and as a result, supplementation is important to improve and retain health. Our doctors have the knowledge and expertise to help you identify what vitamins your body needs to regain optimal function.
Your Individualized Plan
Every patient requires a different approach to care. If you are interested in a holistic approach to nutrition, we will have you complete a two-page questionnaire to help us decide which route to explore. If you are interested in addressing a certain issue, we will conduct an interview and discussion about your condition. While some cases involve only changes in diet, others involve changes in diet as well as additional supplementation to achieve utmost health. Rest assured, Helping Hands Chiropractic Care looks forward to helping you create a customized nutrition plan that leaves you feeling your best.
Our Supplements
While we have an overall prescription that would benefit a majority of patients, most of our nutritional strategies target specific ailments, such as pain and inflammation, joint pain, arthritis, colds and flus, sleep disorders, anxiety, and more. By examining your overall health, we are able to determine which supplements your body is lacking. We are proud to work with several trusted supplement companies, including Orthomolecular, Standard Process, Research Nutritionals, Biotics Research and Cox Technic, to ensure that you get the quality vitamins you need. Our practice also offers varying workshops and resources, such as The Deflame Diet: Deflame Your Diet, Body, and Mind by Dr. David Seaman.
Learn more about how we can help you by contacting our practice to book your appointment. We look forward to welcoming you!

Nutrition Jefferson Park, Norwood Park IL | 773-725-4979