Chiropractic Care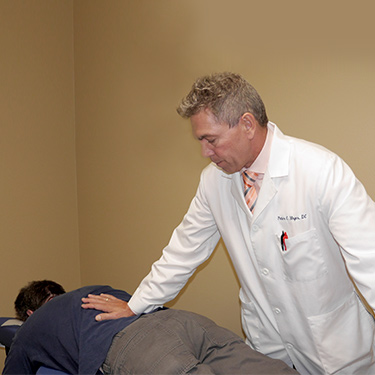 If you're new to chiropractic, this form of natural health care focuses on removing interference in the nervous system so it can function optimally, which allows the body to heal itself. The body is amazing and just needs a little help.
Dr. Pete's Approach to Care
"I do my best to identify which tissues are injured or have problems, and then I direct my care to those areas using best practices and well-researched, well-referenced techniques. There are hundreds if not thousands of chiropractic techniques being practiced today. We primarily use the Cox® Technic as it's gentle approach is backed by sophisticated and fairly elegant research." In addition to treating the spine, Dr. Pete also works with other parts of the body such as:
Shoulders
Knees
Elbows
Wrists
The Cox® Technic
Once Dr. Pete started using the Cox® Technic, he got fabulous results that reinforced his reasons for starting to use it in the first place. He particularly likes the Cox® Technic as he can treat some conditions that are difficult to manage in other ways. These include disc bulges, disc herniations and sciatica.
Medical doctors often refer their patients to Dr. Pete, who is able to help many patients avoid surgery by using the Cox® Technic. In addition to this technique, he also uses Diversified, which is a form of manual adjusting.
Some Success Stories
Tricep Strengthening
Dr. Pete's brother-in-law, a medical doctor, told Dr. Pete that his tricep was weak and so he had difficulty doing dips in his left tricep. Dr. Pete took a look at him and determined that it was weak because he had a problem in his neck. His brother-in-law had an MRI, which indicated that a disc herniation was present, compromising the nerve. After Dr. Pete treated him using the Cox® Technic and acupuncture over about six weeks, the strength in his tricep returned, and he could resume doing dips.
Boosting Muscle Strength
An older man, who had recently retired, came in with a walker the first day because he couldn't walk very well due to muscle weakness in his legs. Within four months of starting care, he can now stand on one leg for a half a minute.
The New Patient Journey
We treat the problem vigorously, and as the patient gets better, we reduce the frequency of care. "Cox has a 50 percent rule, so it makes tremendous sense to me as the patient gets 50 percent better, we reduce the care by 50 percent," says Dr. Pete.
So at the beginning, Dr. Pete may see somebody twice a day. If they're not working, he'll see them twice a day till he gets them back to work. Once they're back to work or once they're 50 percent and better, he'll see them every day or every other day.
NEW PATIENT JOURNEY »
Developing Body Awareness
What often happens to a lot of people when they come to see a chiropractor is they have new body awareness. We should be more sensitive to what's going on in our bodies. For example, if you're an elite athlete and you want your body to perform at its best, you should be super sensitive to any little change that happens so that you can fix it right away rather than ignoring it and allowing it to become worse. Patients become more body aware, and that's another reason why they continue with care for most of their life.
If you'd like to experience the many benefits of chiropractic care, contact Helping Hands Chiropractic Care in Jefferson Park today to book an appointment!

Chiropractic Care | 773-725-4979